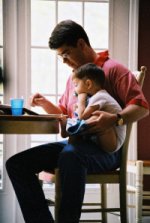 Lee Terry, 40, is a lifelong Omahan.

He graduated from Northwest High School in 1980; the University of Nebraska at Lincoln with a degree in Political Science in 1984; and received his J.D. from Creighton University's Law School in 1987.

Lee married Robyn on Valentine's Day in 1992.

They have three children, Nolan, 7; Ryan 4; and Jack who is almost 2.

Congressman Terry was first elected to the House of Representatives for the Second District of Nebraska in 1998, with 66% of the vote. He was re-elected in 2000 and continues to proudly serve the people of Nebraska. He also was a member of the Omaha City Council From 1991 until 1998.

Prior to serving in Congress, Lee was a highly respected Omaha attorney, active in the leadership of several professional organizations. He is a member of Rotary, the Omaha Chamber of Commerce and the Millard Jaycees. In 1997 Lee was chosen as the Nebraska Jaycee's Outstanding Young Nebraskan. In 1994 he was chosen as one of the Ten Outstanding Young Omahans.

Congressman Terry is actively involved in political and charitable groups in the community. He has served as a member of the Service Area Board of the American Diabetes Association (ADA) and has hosted events to raise money for those afflicted with diabetes. Lee also served the ADA as chairman of the Great Plains Region, which includes Nebraska, South Dakota and Iowa.
Congressman Terry believes every child in Nebraska deserves a quality education. He is proud of his work on the No Child Left Behind Act, which makes schools more accountable to students and parents while providing more money to invest in local school needs. Lee Terry fought to increase tax-free contribution limits to Educational Savings Accounts. Congressman Terry is also one of the founders of Cox Connects Kids, a program which supplies computer equipment and training to students in financial need.
Congressman Terry is fighting to let families keep more of what they earn, and will stand up to those who will use any excuse to get their hands on our hard-earned wages. Lee Terry believes that better jobs are built from a strong economy, which is why he fought hard to pass legislation to eliminate the marriage tax penalty and phase out the death tax. In addition, he supported legislation which lowered taxes for all taxpayers and increased contribution limits for IRAs.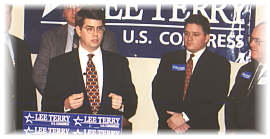 As our Congressman, Lee Terry will fight to protect Social Security for our senior citizens. He will not support efforts to raise the age of eligibility, increase payroll taxes or reduce benefits. In addition, Congressman Terry has been working to push for a comprehensive prescription drug plan to make medicine more affordable for seniors. He's fighting to give us a Medicare system that works well with modern medical practice.
Military men and women are the backbone of America and Congressman Lee Terry has worked to make sure they have the tools they need to protect us. He is committed to working with President Bush to ensure a strong national defense. Lee Terry successfully fought to get over $1.2 million for Offutt Air Force Base, voted in favor of a 4.8% pay increase for our military personnel, and supported a $1.7 billion increase in medical benefits for veterans. Congressman Terry is working to honor those who risk so much for our families.
Congressman Terry has experience the people of Eastern Nebraska can trust. Lee looks forward to continuing his efforts in Congress, working hard for all Nebraskans, Americans and the world.